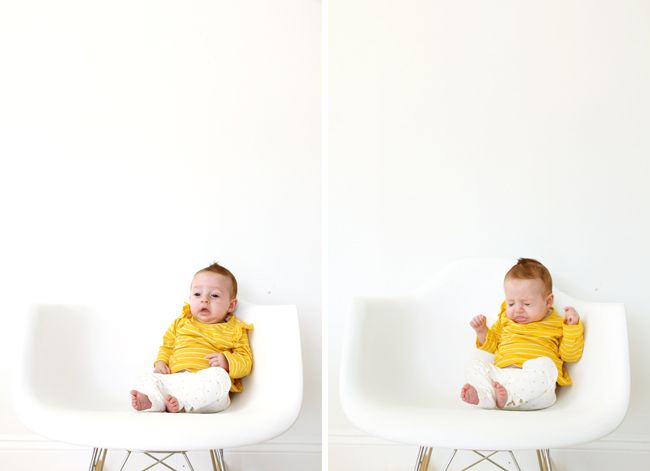 (baby sneezes...eeep!)
phoebe sue at 2 months is a such a funny little friend.
the most amazing thing in the world to her is her own hands, which she discovered this month. she spends all her free time looking them over...figuring out what they're doing there and that it is, in fact, her own finger that is poking her in the eye.
she is full of smiles and coos...bubble blowing and head lifting these days (and has kept that glare that i get such a kick out of). she has a love/hate relationship with my singing, is terrified by the noises that come out of sofie the giraffe, and has discovered a fondness for george from seinfeld.
(she'll stop eating so she can watch the tv and smile at him while he's ranting about things...like swallowing a fly)
baby girl is cool as a cucumber and has the most special bond with her max.
he's the only one that can truly get her to calm down when she's having a moment...he's got the touch. not to mention her dada...matt can get her to light up faster than anyone. she's such a lucky gal to have such guys. we both are.
so here we are at 2 months in, sitting pretty...finding routine and balance with this little light in our lives...and soaking up as much of this tiny baby stage as we can.
bee is growing and changing by the minute!
**********************************************************
on a more personal note: phoebe had her check up with the doctor this afternoon, and matt and i opted out of the vaccines (except for her 2nd round of hep). we want more time to think and research before we go all in with immunizing. i'm on the fence still, seeing and knowing the benefits of both holistic and modern medicine. max has had all of his shots...so this is new territory for me.
any advice or articles sent our way would be much appreciated!