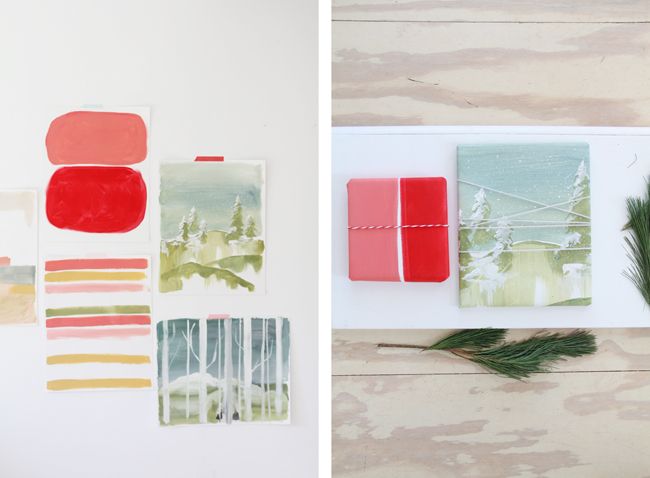 today has been spent doing a small bit of christmas trimming...trying to finish up cards and beginning to stash surprises under the tree. giving gifts and wrapping them up special is something i love to do. but having a little teething baby has made making homemade gifts almost impossible this christmas...so i've been doing lots of shopping online. but adding a little special homemade touch is important to me...so this year i decided to use fabric and painted canvas paper to wrap things up with.

i tried my hand at recreating the
pom pom anthropologie paper
i've been pining over (i used white crate paper (to give it a handmade paper feel) and 7mm red pom poms...wrapped the gift up in the crate paper and hot glued the pom poms on).
to make hand-painted paper, i use
primed canvas pads
and acrylic paint. max and i had a ball painting away last night...and because the sheets are primed they mold really nicely around the gift when it's time to wrap! they're like little pieces of fine art to make the best kind of first impression.
wishing you all a wonderful weekend!
tonight is a date night/
hobbit
night (eep!) and tomorrow is mad dash finish shopping saturday...
xoxo