i love taking pictures.
i suppose that's where it begins and ends for me with photography.
i have a passion for capturing things around me to remember for later.
more times then not while i'm awake i see my world cropped in a picture. i see composition everywhere i look....but ask me about the iso used on a photo or my aperture and shutter speed and you'll get a bit of a blank stare.
most of the things i enjoy doing, i do by instinct. whether it's painting or decorating or taking pictures. i usually go with my gut and enjoy the fumbling around...the growing pains of learning or teaching myself something new. i'm slowly taking in the technical ins and outs of photography...and forcing an interest in it. but i think i'll always love just grabbing my camera and going for it...no lighting checks or bells or whistles.
that said, i get a lot of questions about the pictures i take and how i take them. (a big thank you to all of you who have taken the time to write me about this!).
i'm going to try my very best to break it down...but apologize in advance to those of you who know your stuff! my verbiage might sound a little bit like armature hour.

i shoot with a canon 60D.
i got her 4 months ago and it was instant love. she is a dream, that camera! i know there's nicer out there...but i've never had anything more than a cheap little point and shoot before her.
i have 2 lenses right now: a 18-135mm and a 50mm.
both are wonderful but i've been sticking with the 50mm these days. it lets in so much light and allows for some pretty beautiful depth.

every now and again i'll venture onto manual mode when i'm feeling adventurous...but mostly i stick with the p mode...and scoot things around from there. i like being able to snap a photo at a moments notice...and so far, i can't seem to do it as seamlessly in manual. someday! i generally just mess around with my aperture and shutter...i like to let as much light in without washing things out too much...and love keeping the aperture around 2-1.4 for the detail shots with a nice blur.

editing

i edit all of my photos with photoshop cs3.
i used to use a lot of actions and filters on my old photos (while using a point and shoot)...but the 60D produces such beautiful photos i can't bare to cover them up with a lot of layers.
these days i just tweak the curves and colors here and there...keep things a bit more natural.

today i thought i would share with you how i edit 90% of my pictures.
this is a photo straight out of my camera.
it's a little dark for me...i like to make my photos bright and airy.
so the first step is to adjust the curves.
curves can be found under "image//adjustments".
for those of you who don't have a photo editing program you can use some online!
picnik
is my favorite! you can edit the curves of your photos under the advanced section (although i think you have to pay for the premium membership)
once the curves window is open, pull the line up from the middle until you get a nice and soft brightness...nothing too harsh. then grab down at the bottom of the line and pull it up...this will make a more even bow in the line and make a subtle contrast in brightness.
my input usually ends up around 50 and the output between 90-100.
(and i still have no idea what that means...haha)
here's the photo with the curves adjusted!
it's much brighter but the colors are still a little lifeless to me.
from here i like to add a pop of color.
most of you have noticed that, for me, it's red. i love making the reds in my pictures stand out a bit more.
i do that by using selective color.
you can find selective color in photoshop under "image//adjustments"
this option lets you isolate colors in your photos and adjust them without affecting any of the others.
and it is by far my most favorite thing to tweak in my photos.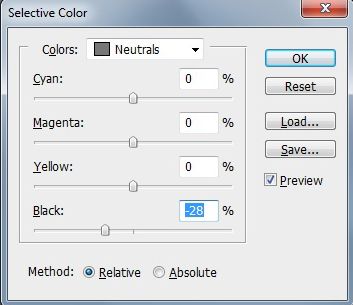 getting started, i usually adjust my neutrals first.
by taking away some of the black it lets me lighten the darker "neutral" tones in the photos just a bit without washing out the lighter tones.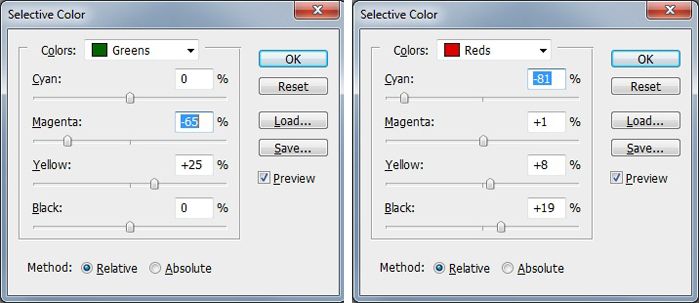 from there i add a bit more yellow and less magenta to the greens...
and to get a pronounced red, i add a bit more black...some yellow to keep it bright and take away lots of cyan to make it glow.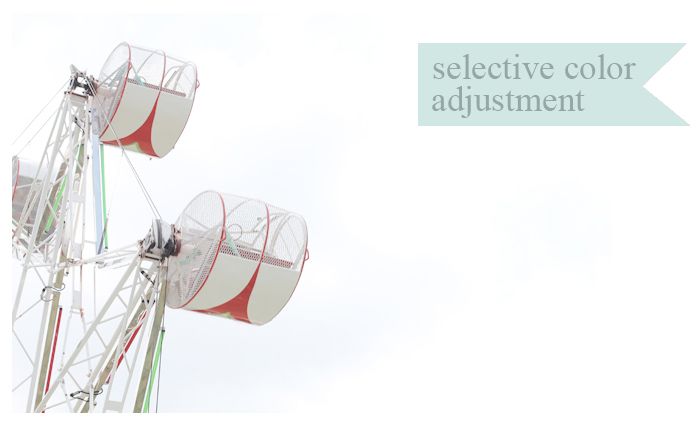 the end result is bright and cheerful...and the pops of color set it off!
it's such a quick and easy fix for a dull photo..and the clarity from the original isn't muddied much by layers of effects.
here's a quick peak at the before...

and the after...
hooray!
i hope this helped answer some of your questions.
when we get back from our trip i will add a "camera bag" tab under my header and keep you guys updated on what i'm using and what works and doesn't work for me.
in the meantime, go out and take lots of pictures and play around. document your life! and appreciate your unique way of seeing the world...regardless of whether you know what you're doing or not!
xoxo