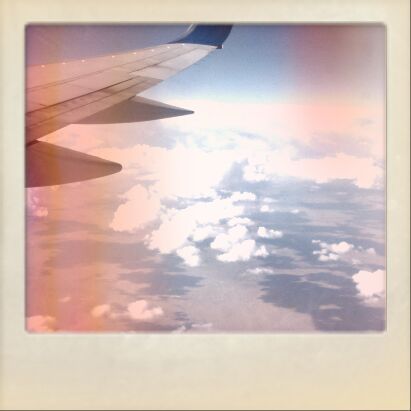 hello there!
we made it safe and sound to california...and flying was everything i hoped and wished it would be...minus a scary tiny first plane ride to chicago that made me a bit uneasy. (the terror in the flight attendants voice during take off didn't help one bit..haha). but the girls gave me the window seat both flights. i got to see the landscape change...the ground mapped and gridded...and the grand canyon 33,000 feet up! i don't know i have the words...
i know flying is so commonplace, and i was a little disappointed in myself that i started feeling so normal after the first 5 minutes, but it really was pretty fantastic...sitting up in the clouds, drinking ginger ale and thinking joni mitchell was sitting in coach 3 rows up (she was not).
i'm feeling pretty lucky this morning. enough so that it's 6 o'clock in the morning here in l.a and i'm wide awake. oh dear.
happy monday, friends! and thank you all so much for the wonderful list of things to try and see! i'm beyond excited to be here. but ache for my boys the most. if you're in ohio, go check in on them for me...i blow a kiss their direction.
xoxo