oh dear. where do i begin?
let's start with the good. the very good! max made it through his first day of school and it seems like a pretty fine fit.
his dinner last night was hilariously awful and tense. you can't tell from the pictures so i guess i shouldn't even be speaking of it. haha. for all you can tell we all got along swimmingly and there was no 6 year old sass or complaints on where we ate or lack of extra party poppers.
no, it wasn't that awful at all.
we cheered and made messes and wished school year wishes and ate popsicles while watching the dark crystal.
then we washed dirty little toes and went straight off to bed. once he was asleep i snuck into his room and kissed his head and sniffed his hair and whispered little prayers his way.
oh friends!
he was so excited today.
i rushed home from work to find he and matt dressed and ready, but without one thing. a fact he left out until it was time to go out the door. max forgot to put on underwear.
and with that, we were late.
to add to the mess, we got stuck at a train a block from school and missed the line to the classroom. his new school shoes make him trip and when we finally got to his room he tripped in front of his teacher and became devastated. he hid behind me for a second out of embarrassment. the principal saw him holding on to me and mistook it for separation anxiety and instantly came and ripped max from me. max turned into a crazed animal...kicking and yelling and reaching out to me. i was forced to turn my back and leave while max left fingernail tracks in the door.
and i bawled. i was a big bawl baby.
and my heart broke a bit.
i guess i cried for a few reasons. i had wanted his first day to go exactly how i had it planned in my head...even down to the meeting of me and max's dad, jesse, and matt today. and nothing did. but if i've learned anything the past few years, it's that there is a lot of beauty in the unexpected. or at least something to laugh about later. and if you ask max how it went today, he doesn't even recall mauling the principal.
but you can bet after school i scooped him up and we went straight for ice cream and french fries. we needed it.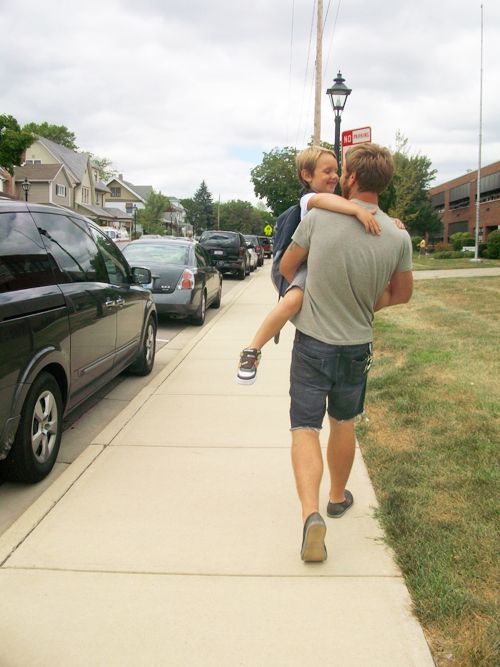 and we're going to be there 20 minutes early tomorrow.
...with underwear on.